Peak Performance Technology for the IT support for financial services Industry (fintech companies).
We are a Fintech companies (Financial Technology focused) IT Support consultancy that works with London fintech startups, fintech blockchains, fintech banks, fintech insurance, and Fortune 500 clients to deliver business impact through technology.
We specialize in delivering reliable and secure solutions that help our clients grow their business investment.
Speedster IT support provides the peak performance technology that your business expects for a competitive edge.
We support your business processes 24/7, manage, monitor, and secure your critical data and allow you to quickly scale up or down according to your business needs.
We will :
Identify and fix vulnerabilities before they're exploited

Protect your business and customers from cybercrime

Gain a complete view of your IT infrastructure
Contact us today to find out more about how we can help you with your fintech IT issues
The role of IT in Fintech companies
We know Fintech IT, or financial technology, is an industry that is constantly evolving with fintech technology trends.
New trends and technologies are being developed all the time, and it can be difficult for financial institutions to keep up.
We'll work closely with you to ensure that you get the most out of our services, and our team of specialists are always on hand to help you out with whatever you need.
So if you're looking for a reliable and experienced partner in London, Speedster IT is the name to trust.
We support many Fintech businesses in London with the following specialist requirements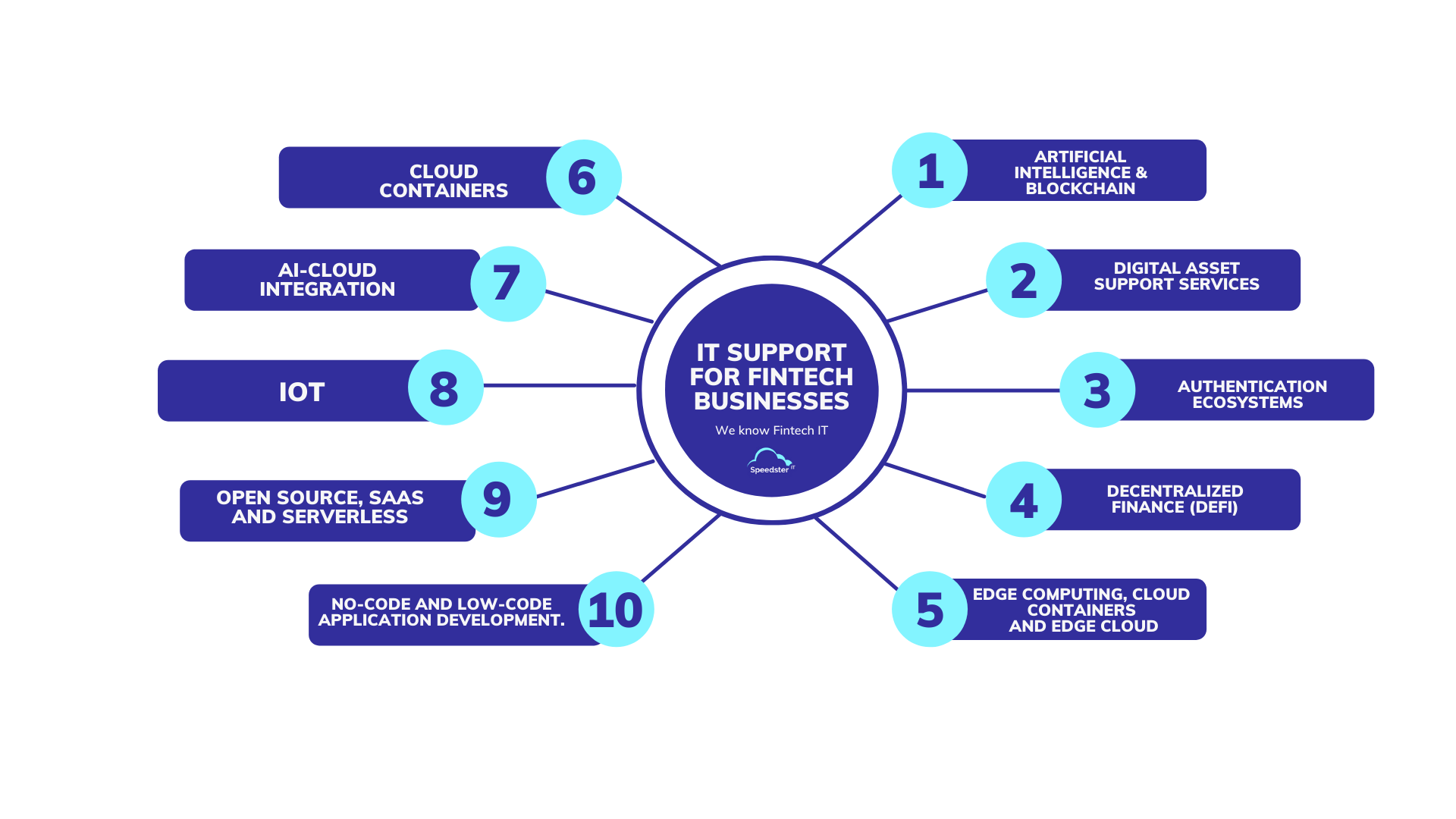 Artificial intelligence

Blockchain

Digital asset support services

Authentication ecosystems based on zero- knowledge proof

Decentralized finance (DeFi)

Edge computing and edge cloud

Cloud containers

AI-cloud integration

IoT

Open source, SaaS and serverless

No-code and low-code application development.
Fintech IT support providers such as Speedster IT can help with everything from developing a digital transformation strategy to implementing new technologies.
Speedster IT is a trusted provider of outsourced IT services to Fintech businesses in London and the UK. We have the latest expertise and guidance to help your business succeed.
By partnering with a Fintech IT support provider, financial institutions can ensure that they are always using the most up-to-date methods, technologies and compliant!
Contact us today to find out how we can help you!
The Benefits of Fintech IT support and consulting
Speedster IT is a Managed IT Services Provider with over 10+ years of experience in the Fintech industry.
We offer a comprehensive suite of products and serices such as managed cloud based solutions, cyber security, IT Support, it infrastructure, risk management services that are designed for financial products to protect your data and keep your operations running smoothly.
The regulatory compliance environment for financial companies is constantly changing, posing a challenge for those in the industry.
Fintech IT support can be a valuable resource for companies trying to keep up with the latest compliance requirements, provide assurance that any problems will get solved quickly, securely – all while helping you meet your business goals!.
Our IT support staff are up-to-date on the latest compliance requirements and can help your company ensure that your IT systems are compliant.
In addition, we can provide guidance on how to best implement new compliance requirements. By partnering with Fintech IT support, financial companies can stay ahead of the curve on regulatory compliance.
We can help you with everything from daily IT support to complex cybersecurity initiatives. Fill out the form on our website to set up a consultation and learn more about how we can help you secure your data and maintain compliance with industry regulations.
Data Protection for Financial IT Services
Without the right security measures in place, your organization could be at risk of losing critical data.
The first step is to evaluate your current environment and come with a recommendation for the security measures that need to be implemented. A detailed plan of action will outline exactly what needs be done to keep your information safe.
Creating A Strategy For Fintech IT Support
This step involves looking at your overall infrastructure. An inventory will be done to ensure that you don't pay for unused equipment or software that you no longer need. New tools that can help improve business process and improve effectiveness can also been recommended.
Ensuring Maximum Uptime
Ensuring maximum uptime means ensuring that there is no downtime. Customers expect zero interruptions in banking or insurance transactions.
A reliable IT infrastructure is essential. In case of an incident, you need a monitoring partner who reacts and responds immediately.
The result is minimal downtime so that you can continue providing uninterrupted services to your customers.
Keeping your Employes Productive
Your employees rely on technology and everything else to help them do their jobs. You need a partner who will maintain your network so that your employees can work efficiently.
Keeping your employees productive is crucial for the success of any business. Your staff reliy on technology and everything else to help them do their job, so you need a partner who will maintain what they need in order make sure that all work properly together efficiently- which means keeping up with new trends!
Financial Data Protection
Protecting your company's financial information has never been more important. Your company needs a secure network and a cyber security expert team with tools to monitor, protect and respond to cyber threats.
Technology is changing the way people do business, but it's also an expense your company needs to consider.
Regulatory Compliance
Regulatory compliance is always hard for fintech companies. When regulations start changing quickly, it gets harder.
Make sure you choose the right products and services, compliance solution that scales with you over time. Don't opt for minimum requirements, but instead implement better security policies beyond what is required.
Fintech IT support can be a valuable asset for businesses in the financial sector. Our consultants have a wealth of experience in the industry and can provide insights on the latest fintech companies technologies and trends.
We can also help you to identify and overcome any potential roadblocks. With our help, you can get from where you are to where you want to be quickly and efficiently. Contact us today to learn more about how we can help you.
Read our
recent news
The latest IT Support London news and technical advice provided by Speedsters IT experts.
See all news