What is the BT switch off & When is the BT switch off?

The BT switch off, officially slated for December 2025, signifies a crucial change in the United Kingdom's telecommunications landscape.
From that date, BT will cease its traditional ISDN and PSTN services, marking the complete migration towards an IP-based network and managed communications.
The transformation is aimed at enhancing the quality of voice services and paving the way for more sophisticated digital communication solutions.
For business users, this implicates the necessity to switch to VoIP and other IP-based communications before the deadline to ensure uninterrupted service.
Explore how this will impact your business and smoothly transition to digital services.
Understanding the Implications of The BT Switch Off
In 2025, BT is scheduled to deactivate the UK's analogue telephone network (ISDN and PSTN). This will mean millions businesses across the country are disconnected with the BT Switch Off, unless they make a switch to digital voice services.
To help customers through this process, BT has outlined some key points about the switch off which you should be aware of before making any changes to your phone setup.
As a business owner you need to familiarise yourself with the BT switch off timeline and make sure that your business is prepared.
The BT Switch Off: Your Guide to Staying Connected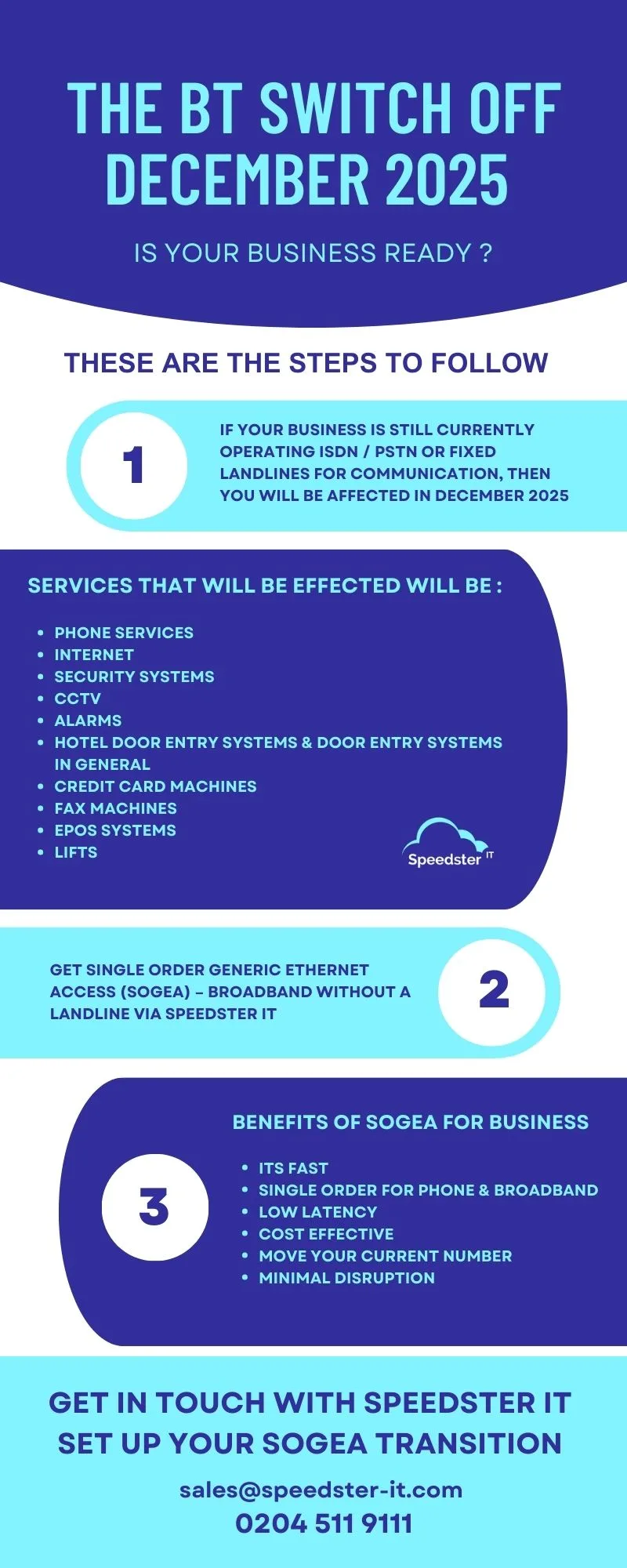 As we stand on the brink of a digital revolution, the announcement of the BT 2025 switch off serves as a crucial reminder for businesses to adapt and embrace the change.
If your business is still currently operating ISDN / PSTN or fixed landlines for communication, then you will be affected.
Services that will be effected will be :
Phone Services
Security Systems
CCTV
Alarms
Hotel Door Entry Systems & Door Entry Systems in General
Credit Card Machines
Fax Machines
EPOS systems
Lifts
The good news is that there are a number of options available to ensure you stay connected. For businesses we recommend SOGEA.
What is Single Order Generic Ethernet Access (SOGEA) – Broadband Without a Landline
SOGEA (Single Order Generic Ethernet Access) is a data-only service that will ensure you stay connected, no matter how big or small your business is. As SOGEA provides a single point of access for both voice and data services it ensures more reliable connections and the ability to scale up quickly as needed.
Benefits of SOGEA for Business
In addition to the reliable connections and scalable nature of SOGEA, it also offers businesses a number of additional benefits.
SOGEA offers download speeds of up to 80Mbps, leveraging the same dependable technology as FTTC.
Single order for phone and broadband
SOGEA provides a single order for both voice and broadband services, making it easier to manage.
SOGEA's low latency ensures fast downloads and smooth streaming.
Lower installation costs means SOGEA is the most cost effective choice when switching from analogue phone lines to digital
Customers have the option to retain their previous phone number, in accordance with OFCOM regulations.
Making the Transition: What You Need to Do Now
With just over 1 year until 2025, now is the time to start making plans for your transition to digital voice services. Here are some of the steps you should be taking now.
Before the switch off, you need to consider doing the following:
You need to start planning and looking at everything connected to phone lines.
Services that will be effected will be :
Phone Services
Security Systems (CCTV, Alarms, Door Entry Systems)
Credit Card Machines
Fax Machines
EPOS systems
How Much Will it Cost to Switch to a New Phone Service like SOGEA?
The cost of switching to a new phone service is dependent on the size and scale of your business, but typically you can expect installation costs to be lower than traditional ISDN or PSTN services.
Can I keep my current number?
Yes, when making the transition to a digital voice service such as SOGEA, it's possible to keep your existing landline number.
What is the BT Switch Off Deadline?
The BT switch off deadline is December 2025, after which time all traditional ISDN and PSTN services will be terminated.
Making the Most of Digital Voice Solutions
With the transition to IP-based networks and managed communications comes a range of possibilities
Get in Touch with Speedster IT
The team at Speedster IT are experts in SOGEA and can assist you with the transition process. We have extensive experience in setting up SOGEA for businesses, we are the perfect team to talk to about this transition.
We can provide a bespoke package to fit your exact requirements, as well as offering guidance and support throughout the switch off process.
Speedster IT can Help your Business with the 2025 BT Switch Off
Conduct a comprehensive audit and review of the current services in place.
Assess your current business practices and strategize a transition plan towards digital services.
Provide guidance for selecting the appropriate UK service provider.
Offer continuous maintenance and support services.
After transitioning, we offer consistent maintenance and support to guarantee the seamless operation of your system.
With our 19+ Years of experience in this sector, we are well placed to advise you on choosing the best provider!
If you would like to talk to us about making the transition, please don't hesitate to get in touch.
Contact us to Schedule your Free Consultation!
December 2025, signifies a crucial change in the United Kingdom's telecommunications landscape known as the BT Switch Off
The BT switch off will have a significant impact on UK businesses that don't act in time. As BT plans to withdraw its traditional voice services by 2025, businesses still reliant on these services will find themselves unable to make or receive calls, causing severe disruption.
There's also a risk of losing your business number if you leave the transition to the last minute. Hence, businesses that don't prepare for this change may face operational disruptions, potential loss of customer trust due to communication failures, and potential financial implications of a last-minute switch.
Switching to VoIP or SOGEA does not necessarily require any special costs. Depending on the technology you choose, you may be able to easily switch with minimal investment.
The best way to find out exact costs is to talk with Speedster IT representative who can give you an accurate quote.
Switching your business to SOGEA (Single Order Generic Ethernet Access) provides a myriad of benefits.
Firstly, it offers improved connectivity with high-speed, reliable broadband that doesn't require a phone line. This standalone broadband service ensures that your business is always connected.
Secondly, it's cost-effective, eliminating line rental costs associated with traditional connections. Also, it provides better performance with lower downtime, which is crucial for running your business operations smoothly.
Lastly, the flexibility that SOGEA offers is unparalleled, allowing you to add or remove services as per your business needs, ensuring that you pay only for what you use.
Switching to SOGEA is a sound business decision that ensures improved performance and efficiency while saving on costs.
You can switch to BT's SOGEA services with ease. All you have to do is get in touch with Speedster IT engineers to take care of the rest.
Call us on 0204 511 9111
Email us on : sales@speedster-it.com
Switching to Single Order Generic Ethernet Access (SOGEA) could have several implications on business compliance. It's essential for UK businesses to understand that the shift can impact their ability to meet certain regulatory requirements. For instance, the nature of data traffic might change, potentially affecting how businesses comply with data protection and privacy laws such as the GDPR. Additionally, as SOGEA separates broadband from the line rental, businesses might need to reassess their contracts, service level agreements, and continuity plans to ensure seamless operation and adherence to consumer protection regulations. Therefore, businesses are advised to conduct a thorough compliance check before making the transition.
Get in touch with one of our SOGEA experts at Speedster IT Solutions for a comprehensive assessment and to ensure that your business meets all the necessary requirements.
To help your business get up to speed with the regulatory and legal requirements associated with SOGEA, we also provide a range of support services from risk and compliance consultations to technical reviews. Our aim is to ensure that your business remains compliant in all its activities and operations, regardless of whether it's using SOGEA or not. Get in touch to find out more.
Tel : 0204 511 9111
Email : sales@speedster-it.com
Speedster IT Services ensures businesses remain connected, efficient, and ahead of the technological curve.
We have a team of dedicated experts on hand, with over 19+ years of experience to provide comprehensive support throughout the migration process, making the switch to new platforms as straightforward and stress-free as possible.
Our expertise spans from traditional VoIP systems to the latest SOGEA services, facilitating seamless transitions for businesses adapting to new technology.
Get in touch today
Tel : 0204 511 9111
Email : sales@speedster-it.com